When everyone has super powers no one will be super
I recently had an interesting debate that covered not just martial arts but most sports, the underlying concern raised was that martial arts seems to have taken on a range of activities that really do stretch the human bodies capabilities as so with street dance and free running, the discussion stemmed around when we were first introduced to such things as acrobatics, balancing on one hand etc it was fresh and new (I also remember many moons ago Bruce Lee's two finger push up, the people I knew then totally disbelieved that anyone could do anything like that )
When we saw Capeoira show some very strange body twists and balances we thought this was something special (A Capeoira Video)
 Seeing young men hurling themselves onto and over apparatus with such ease caused us to miss a heart beat as we assumed the inevitable crash to the ground, but because they are truly something special, they obliterate our assumptions.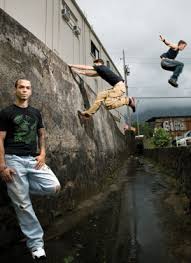 It is here that the discussion made a drastic u-turn when someone who sat quietly in the corner stated that a line from the film the 'The Incredibles' seemed quite apt under these circumstances, the rest of the group sat with bated breath to hear their words of wisdom. 'When everyone has super powers no one will be super' they said calmly.
It took the group less than five seconds to veer down the avenue of decreeing all the acrobatics within street dance (A Street Dance video), martial arts (A Martial arts video) and free running (A Free Running site) as very samey(not sure if it's a word but i might as well be the first if it isn't) and afterall not very original and that if so many people can do it, it isn't that special after all. It came to the point where the group agreed outright that they would go as far as to say these attempts to entertain the general public seem even more watered down from the original intentions especially within the martial arts fraternity and cheapen their effects because everyone is doing the same thing day in day out.
The group went on to say that on all the talent shows recently there are street dance groups clambering for their fifteen minutes of fame, but stated they all looked the same, the martial arts scene struggles to find its own identity so uses acrobatic tricks to make it look more interesting and on free running the group really went to town as they questioned whether there are any new innovations as the movements are clearly defined and again samey and as more and more cities 'free' areas disappear Parkour will inevitably gain a negative image if prohibitions are broken.
I mentioned the benefits of partaking in these arts such as increased confidence and that it would be a shame to see the brilliance of such athletes forced under ground again as they have worked so hard to bring their respective arts to the wider public. The group agreed and hastened to add that 'When everyone has super powers no one will be super' their only concerns are the usual fragmentation that takes place within any art, sport or business that results in the public being left with the sameyness 'Non supers', whilst the genuine 'Supers' find their own true identities underground once more.
See also
Athletics into the 2012 Olympics